Pneumatic Tires
Pneumatic tires travel smoothly even on bumpy ground. The tire diameter is 12 inch.

Steering Handle
The handle bar allows you to move GloBug freely. Requiring force to move is only 11lbs. The wheel designed to turn in the oppiste direction of the handle, so that you can apply the force easier.

Sure Braking
The parking brake pedal, which is easy
to apply even in an emergency, holds the firmly at 11lbs. and holds it even with a puncture and on a 5 degree slope.





Ofset & Straight Poles
Offset pole and Straight pole are available. You can put in position beyond the equipment not to cause an obstruction.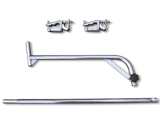 Poles & Clamps


Flexible Clamps
Flexible clamps allow instrallation at any angle. The diameter of available pipe to fix up is 0.5 - 2 inch.







Air Shock-Absorbing Mast
Mast system uses air shocks to prevent sudden descent.
Adjustable Height and Quick Storing
Height of the tripod is adjustable at two positions. Stowing is with just pulling up the strap.
Carrying Case
For easy carryting